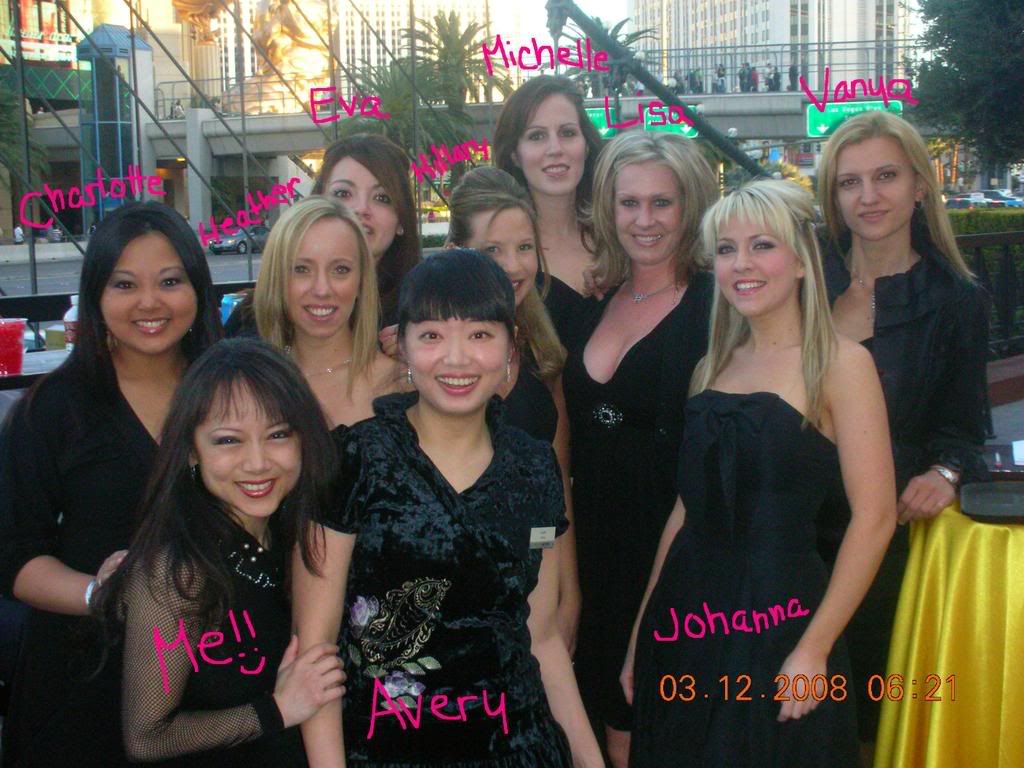 Last night I worked a private party on the bridge for about a thousand people. It was pretty fun because all the customers were really nice, most of them were men, and damn those guys could drink. And I worked with nine of my favorite girls, all of us are members of the Starving Waitresses.
Here we are with Chris, our V.P. of Food and Beverage. He is the best boss, the nicest guy, and I just love him. I have a straight boy crush on him.
There were a group of guys next to the waitress station. Heather and I were hanging out there talking when Lisa walked up to us. As she walked by the group of guys, one of them stopped her and said, "Hey, how ya
doin
'?" She said, "Good," and gave him a look like,
do I know you?
He said, "It's me!" She still just looked at him, as if trying to place him. He said, "Didn't I meet you at church camp?" She said, "Uh no...I don't go to church." I rolled my eyes and said, "Oh my god. Does that
ever
work?" The other guys at the table started laughing. The guy said, "Once. Well, OK, maybe never." I pointed at Heather and said, "Hey...don't I know you from church?" She said, "Yeah, I think so." I said, "Great. Let's fuck!" She said, "OK, let's go." They just bust out laughing. The guy said, "That's exactly how it's supposed to work."
I haven't worked in over a week I felt like I was starting a new job. I forgot the door code at the employee entrance so I was punching buttons like an idiot and kept getting a red beeping light until another employee came by and put in the right code. Duh. I almost didn't recognize the casino with all the construction going on and the new layout in the completed areas.
And when I left work I was so tired that I couldn't wait to get home, change into my sweats, make something to eat, and watch
American Idol
, which I had recorded on my
DVR
. I looked in my purse to get my iPhone to charge it and lo and behold...I realized I had left it on the bar! Here I was talking shit about Jerome losing his phone and I went and did the same thing. So I had to drive all the way back to work in my Hello Kitty sweats, wait around for another employee to walk up and input the right door code, walk all the way to the bar where everyone very helpfully said, "Hey, you forgot your phone," and drive all the way home again.
Aargh
!